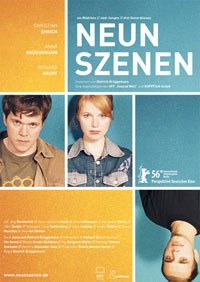 "A film that breaks the frame. Brüggemann not only tells about the middle of our society, his film is an experiment of staggering style. NINE TAKES shows nine takes, not more, but no less. Relationship and generation problems are dissected in long plan sequences in a surprisingly funny way. An impressive debut, both for form and content. " (Tagesspiegel Berlin, 9.2.2006)
Actors: Christian Ehrich, Anna Brüggemann, Richard Kropf.
Produced by Gesine Recherstorfer for HFF "Konrad Wolf" & Koppfilm.
Premiere: Berlinale 2010 (Perspektive on German Cinema)
Best Feature, achtung berlin 2006
Audience Award, Festival des Deutschen Films Ludwigshafen 2006
Best Screenplay, Studio Hamburg Nachwuchspreis 2007